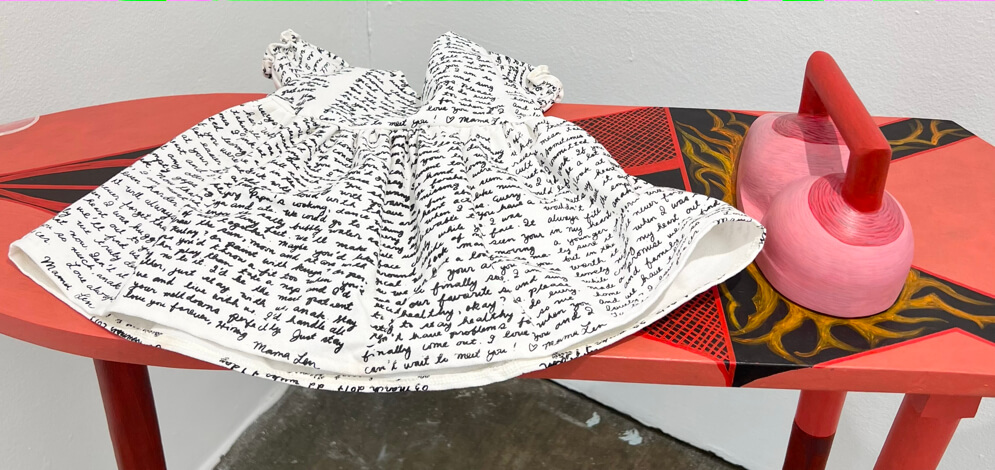 Len-Len and Pauline Reynolds
The labor that we speak of is not one that confines itself to childbirth but rather, a central component of a mother's sense of self and understanding of the world.
Labor recognizes the gendered subjectivity of the artist-mother by highlighting her unique struggles and often invisible work, while also considering her strength and fervor as an individual who pushes for the development her art-practice.
Both artists, Len-Len and Reynolds connect in as much as they emphasize the unacknowledged reality of the role mother-a multi-dimensional function that necessitates physical, mental, and emotional labor so crucial to the successful functioning of a family-and its reconciliation with the equally complex and challenging role of artist.
Creating from their personal experiences, both Len-Len and Reynolds manifest works that are intimate yet intense. United in their shared focus of healing and empowerment, the artists transcends the formal qualities of their work by actuating the motive of art-making as a way to get back to an autonomous self. Consequently, art becomes an essential activity of self- reflection and the creation of a safe space that grounds one in the present moment, allowing
for an introspection and demonstration of labor as an outward material expression of incredible love and devotion.
By giving value to the notion of creativity as a way to elevate the spirit and move past the difficulty that is labor, artist-mothers Len-Len and Reynolds achieve a better sense of accomplishment and power in their lives.